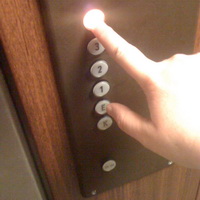 –
Presenting is not easy, especially when time is of essence.
A clever method to handle this challenge is the Elevator Pitch.
It is a convincing presentation, that can only take so much time, like a ride on the lift (elevator) lasts.
–
The solution:
This flash presentation will be successful if the following ingredients are present:
Good preparation
Committed and figurative language
Precise arguments
It is said that performance-oriented salespeople are using the duration of an elevator ride, to convince their superiors and buyers of their concerns.
With the aim to acquire funds, the term is generally used by entrepreneurs to present their business idea (business plan) in front of potential investors (e.g. venture capitalists).
The time period for such Business Pitch is generally 10 minutes, as it is performed at the "Munich Business Plan Competition" (evobis GmbH) in the so-called "Dry Run".
My recommendation
The usage of mental pictures and comparisons is essential for such targeted presentations.
In preparation for my elevator pitch, I do focus on the market, the target group and the uniqueness of my products or services that may compare to its competitors
Committed and efficient response is critical to the success of my elevator pitch, less data and facts
Creating he good feeling with my picturial language, if the subject allows this
Other positive associations, I will send out with dedicated and appropriate body language and my clear voice.
How do I start the pitch?
Proclaiming my name and the company name

Focussing my interlocutors attention through passion and direct eye contact
As general example:
Opens with a summary of the Elevator Speech (max. 25 words)
E.g. My firm (company name) is a company (industry), which develops a product (product category), with features such as (advantage's of the product), which is superior to the existing solutions, such as (competitor)
Outlining problem and solution
Demonstrate benefits (value proposition)
Application / service / price model
7 important prerequisites for a good elevator pitch
Short & precise
Clearly highlighting the customer benefits
Clear conception and task (no details, not go in depth)
Stay concrete (tangible)
Captivating and inspiring (emotion)
Customized for the audience
Credible presentation (what problem do we solve?)
The end of my pitch
Call to Action

Addressed the reaction of my dialogue partner, possibly talk about references

Business card handed over

Asking for a meeting to discuss the details
The result
Maximum success will be achieved, when my respondend is handing over his business card and a follow-up appointment is arranged.
Bruno MUELLER
Club Founder, President, Governor  at Toastmasters International
+49 (0) 89 4900 9000
Keywords: The Pitch 2012, Toastmasters, Munich Media Speakers, munich Advanced Speakers, Munich Business Speakers, Riga Toastmasters Club, Erfurt Toastmasters Club, District 59, listerus-capital, AMI-capital, Investirs